Thank You!
We use this opportunity to express our gratitude to all the invitees to our product launch. We sincerely appreciate the support of all that graced the occasion as well as those who were unavoidably absent.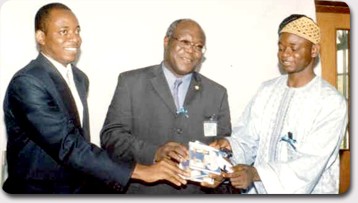 Lainos (then Paradigm) Chairman, Unilag VC and GoodWill & Trust
Investment MD presenting the product.
In particular, we wish to thank the Father of the Day -Prof. V.O.S. Olunloyo (Nigerian National Order of Merit), the Chairman of the Occasion -Prof. O. Ibidapo-Obe (Unilag VC), Special Guest -Air Mashall Isaac Alfa (Chief of Air Staff), Alagba Iretunde Olopade (President, Egbe Ijinle Yoruba), Mr. Omoniyi Ashaolu -the Chief Presenter, and Dr. Gboyega Ojo who reviewed the products.

We also thank Engr. Titi Omo-Ettu -former Vice-President of Nigerian Society of Engineers, Engr. Yomi Aduwo (GM, Portland Electricals), Mr. F. Odunayo (MD, Honeywell Flour Mills), Alh. A. Mojidi -the Chairman of Eti-Osa Local Government, Members of the Church of Christ (Palmgrove congregation), The MUSON Center, Professor Funso Akingbade, Dr. Levi Ajuonuma, Otunba Femi Oyetayo & Alaroye Magazine, A & T Schools at Agege, Heineman Publishers, Connect Center, NetENG, MIT Unilag, BSSL, Miss Joke Sadiq and her friends, Mr Diran, Akin & Sanmi Ashaolu, Unilag Engineering students, the media, our component vendors -Microsoft, Payne Loving Trust, Bennet-Tec, Tegosoft, HighLogic and other individuals and organisations too numerous to mention. May the Good LORD bless you all, Amen.
More pictures from the product launch...