This section provides our top news, Pressreleases andMediareports.

Recent Commercial and Intellectual Innovations: Dr. Asaolu is one of those backing Alajo Technologies Limited - a Fintech startup for mobile savings patterned on the traditional Ajo system in Africa.
He also led a team that developed the U-Index: a new metric for the assessment of a researcher's scholarly publications (Jan 2022).

Win a Scholarship via Electronic Testing: Our Chairman is a co-founder of Andrews Challenge; Nigeria's foremost online scholarly competition (Dec 2012).
New Product Versions. We have released Lainos World 4.1 which supports several major international languages, has improved graphics, speech engines and optimizations. It also features information on the newest countries such as South Sudan, Kosovo, etc. Similarly, Lainos Cooperative Thrift and Credit Society Software (CoopManager) 3.4.1 has a data restore facility (Jan 2012).
New Award. Lainos founder, Dr. Olumuyiwa Sunday ASAOLU has won the multi-reviewed and highly competitive Inter-Academy Panel Award for Young Scientists 2009. The InterAcademy Panel on International Issues (IAP) is a global network consisting of over 100 national science academies. (February 2010)
It should be noted that the recipient has consistently won distinguished awards such as: Best science and best overall student in secondary school [IBHS 85], Best undergraduate in engineering pure mathematics [UNILAG 87], Best nigerian software developer [NISE 2001], Best engineering doctoral thesis [UNILAG 2002] and finalist at national level (NUC awards 2003), Best faculty researcher in engineering, UNILAG [1st - 2007, 3rd - 2011] amongst others.
Rebranding. Upon rebranding and reinvigoration from Paradigm to Lainos, we have released new versions of our products. You can also participate at our new User Forum. You may Right Click and choose "Save Target As" to download our new video advert and popular products flyer. (October 2009)
Lingua and World software donation for education & language promotion. Lainos International has offered FREE licenses of the Lingua and World software to the SCHOOLS DEBATE programme aired on TVC and NTA. Previous beneficiaries of our world-wide donations include teachers associations, researchers, publishers, cultural associations & info-tech training centers. This exercise is backed up with free technical support and updates. For the first two editions of the promotion held in 2001 & 2004, beneficiaries included the Department of African & Asian languages UNILAG, Human Development Initiative Lagos, Mobible Europe, several organizations and individuals including Ayo Salami, a UNESCO researcher who subsequently authored "IFA - A complete divination."
Lainos Chairman married Miss IBIMODI, Mojisola Helen at Kabba, Kogi State Nigeria. We thank God and every well-wisher. Insert is Dr. Asaolu and his bride "Kikelaya" cutting the wedding cake. (October 2003)

Lainos Lingua was used in the production of related publications. For example, here is a pdf version of the program for the engagement ceremony in Yoruba language.
Lainos Chairman (ASAOLU, Olumuyiwa Sunday) became the first person to earn a Ph.D in Engineering Analysis from a Nigerian University at the convocation ceremony of the University of Lagos held on July 6, 2002. Present at the occasion was the Visitor -President & Commander-In-Chief; Chief Olusegun Obasanjo (GCFR). The research which was partly done at the University of Oklahoma (USA) is titled "An Intelligent Path Planner For Autonomous Mobile Robots." His Personal Assistant -OSAKA, Uche Daniel also graduated with a First Class (Hons) B.Sc Degree in Electrical\Electronics Engineering. Below, Dr. Asaolu receives a congratulatory Presidential handshake.
Cross Rivers State First Lady Commissions inclusion of Efik and Kalabari in Lingua Version 2
Her Excellency, Mrs Onari Duke commissioned the inclusion of Efik and Kalabari languages in the award winning Lingua software (July 2002). Anyone who would like to sponsor the inclusion of any language in the Lingua software may contact us immediately.
Engr. Asaolu invited to write a Chapter for book on "Information and Communication Technologies in Nigerian Education". Educationist and Journal Editor -Prof. V. Owhotu has invited Lainos Chairman and other selected academicians for contributions in producing a compendium on ICT in Education. Our boss focused on 'Language Software Development: Principles, Processes And Prospects For Nigerian Education' (June 2002).
Lingua® was awarded "The Best & Most Commercially Viable Software" and for it, Mr. Asaolu won the "Best Software Developer (Researcher Category)" at the 5th Nigeria Software Exhibition organized by the Computer Association Of Nigeria (COAN - now the Nigeria Computer Society), on Tuesday March 27, 2001 at the MUSON Centre, Lagos. Mrs. Pauline Tallen -the honourable Minister of State for Science and Technology commended us for the product.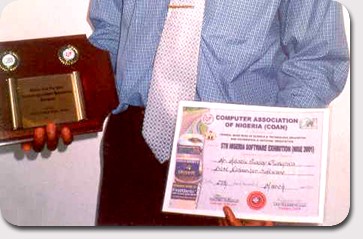 Press Release Archive
Selected Media Coverage of Lainos
Featured in over 500 Software Download Portals. Our products have high ratings and awards (e.g. Mark of Excellence, Editor's Choice, 5 Star, Users Pick, etc.) from most of these sites. February 2004

"E-roamers: where to visit for great stuff from Nigeria", Cyberschuul Product Watch 2003

"IT: Getting the Youths involved", InfoTech Today, MITV 2002

"Paradigm computer software", The Guardian Newspaper, March 27, 2001

"The whizkid on language software", Saturday Punch Newspaper, March 3, 2001

"Expert asks FG to assist software development", Vanguard Newspaper, February 14, 2001

New software translates West African languages, - Hot News and Cool Ideas! African Trade,Travel and Tourism, February , 2001

"Asaolu´s firm launches software today", Ray Power 2 Radio Station, January 30, 2001

"Lainos introduces amazing software", This Morning Show on NTA Channel 5, January 29, 2001

"Paradigm launches in-house software" , The Sunday Times Newspaper, January 28, 2001

"Ph.D student develops break-through software", The Sunday Show, NTA Channel 10, January 28, 2001

"Firm introduces software that translates Nigerian languages", Thisday Newspaper, January 25, 2001

"Unilag Lecturer develops innovative software", Newsline (Nigerian Television Authority Network News), January 21, 2001.
Back to the top